This is exactly where you need to be. Welcome to UBUD, welcome to Mykonos.
OVERVIEW
A brand new accommodation experience for those who seek the finest life has to offer, UBUD Mykonos imbues the exotic charm of traditional Bali on the serene shore of Ano Diakoftis, Mykonos. Blending the lavish cosmopolitanism of this famous Aegean destination with the carefree boho-chic lifestyle of the Indonesian heaven hidden in the rice fields of UBUD, this new hotel offers travellers more than just a relaxing stay. It offers a repose from their day-to-day, immersed in tranquillity, beauty and eclectic services that stands out.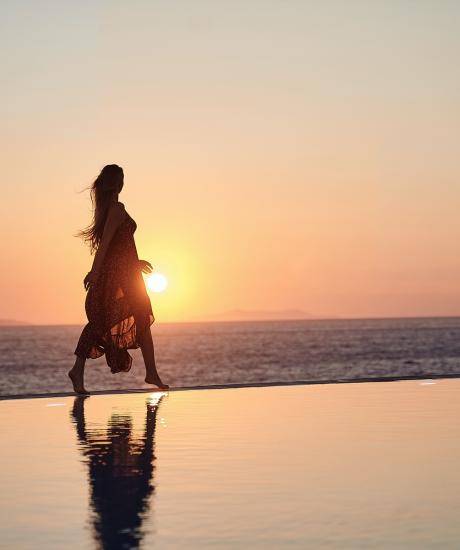 Ubud Mykonos offers a delightful selection of luxurious rooms and suites, decorated in Balinese style with traditional wooden furniture and a touch of Mykonian flair. Outdoors, expansive views to the open sea and the mythical island of Delos from the terraces and the pool area blend in harmony with attentive services to form one truly remarkable atmosphere for your stay.
Explore the liberating experience deriving from the jungles of Ubud right in the heart of the Aegean, and discover the harmony of joining two diverse, yet kindred heavens upon earth. This is the place to seek for your mind to be at peace, the place to yearn for and the experience to remember for a lifetime.