Famous around the world for their immense beauty and their cosmopolitan ambience, the beaches of Mykonos stand out for their superb facilities, the seaside beach-bars, restaurants, and their water sports.
OVERVIEW
When you think of the Aegean Islands, gorgeous sandy beaches and crystalline waters come instantly to mind. When we talk about Mykonos' beaches though, an exuberant vibe of summer parties, thrilling water sports and chichi fun by the sea is what we have come to dream of and enjoy. 
The most popular and best organised beaches are found on the southern coast of Mykonos. Psarou, Paradise, Super Paradise and Platis Gialos are considered the epicentre of beachlife on the island, known for parties and events popping up throughout the day, often featuring famous DJs and performers from the global music and entertainment scene.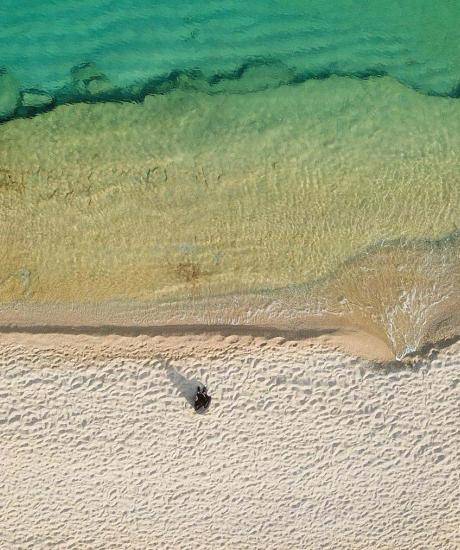 On the northern coast of Mykonos, one finds more secluded beaches, immersed in rugged wilderness that takes one's breath away. These wind-swept shores, such as Kalafatis, attract windsurf and kite surf enthusiasts from around the world, as well as those seeking the more carefree, liberating side of Mykonian beachlife. There is a beach in Mykonos perfect for every taste; set out to discover the one truly meant for you!