The mythical birthplace of gods Apollo and Artemis, an island full of legend and history.
OVERVIEW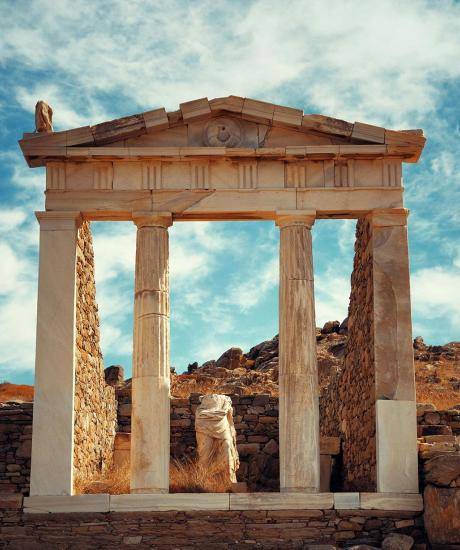 Just off the western coast of Mykonos lies the island of Delos, an island brimming with history and a sightseeing destination one should not miss when exploring Mykonian attractions. In ancient times, Delos was considered a sacred island, as this was thought to be the place where Leto sought refuge from Hera's wrath to give birth to Zeus' illegitimate offspring, the god of the sun, Apollo and the goddess of the moon. The island was a religious, cultural and commercial hub for eons, and the archaeological findings one can admire on Delos are truly spectacular.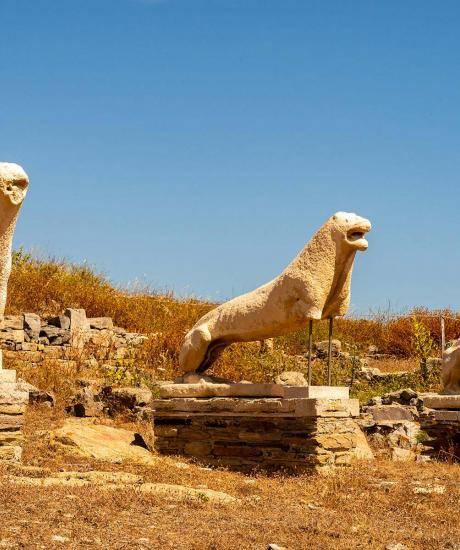 Visiting Delos is easy and truly enjoyable. Daily cruises or private luxury yacht transfers embark from the port or the marina of Mykonos taking you to Delos for an amazing sightseeing experience. A stop to one of the magnificent, white sandy beaches of the neighbouring Rinia Island is imperative, and your day at Delos Island is bound to be an unforgettable, ultra summery experience!